---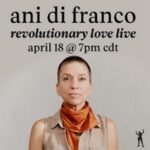 Sunday 4/18 5:00 PT
ANI DI FRANCO
Revolutionary Love Live
GET TICKETS
Celebrate the release of Ani's 22nd studio album 'Revolutionary Love' with a full concert from Ani, Terence Higgins, and special guest Ivan Neville. Come hang virtually in Ani's home, Big Blue, as the band reminisces about touring and performs energetic live versions from the new album along with classics from the Little Folksinger canon. Captured lovingly with seven cameras, Revolutionary Love Live documents Ani's vision for this album live while it's hot off the presses.
---
Thursday, April 29, 5:30 PT
Sunday, May 9, 5:30 PT
SARAH JAROSZ
A Special Two Show Livestream Experience
GET TICKETS
As she inhabits characters both real and imagined — exploring the tension and inertia of small-town living, the desire for escape and the ease of staying put — Jarosz reveals her remarkable gift for slipping into the inner lives of others and patiently uncovering so much indelible insight.
---
Friday 5/5 4:00 PT
Saturday 5/6 6:30 PT
KEB' MO'
Live From City Winery New York City
GET TICKETS
Album after album, 14 in total, he has garnered 5 GRAMMY awards, including his most recent 2019 release, Oklahoma, which won in the Best Americana Album category.
---
Wednesday 5/6 6:30 PT
RUFUS WAINWRIGHT
Ah! – Live Again
Live From City Winery New York City
GET TICKETS
The Grammy and Juno nominated Unfollow The Rules finds Rufus Wainwright at the peak of his powers, entering artistic maturity with passion, honesty and a new-found fearlessness, while remaining as mischievous as ever. Recorded in the same legendary Los Angeles studios as his landmark debut, his ninth album is both a bookend to Act 1 of an extraordinary career and a distillation of 21 years of experience at pop's most flamboyant coal face.
---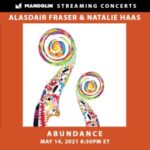 Friday 5/14 5:30 PT
ALASDAIR FRASER & NATALIE HAAS
Abundance/Alasdair's birthday concert!
GET TICKETS
The sixth in a series of seven retrospective concerts dedicated to revisiting and updating their 20 years of recording and performing together. It will also be a celebration of Alasdair's birthday! Join Alasdair & Natalie on a Zoom call after the concert to continue the festivities.
---
Every Mandolin ticket is a front-row seat!
Enjoy the benefits of the best seat in the house by yourself or along with friends. Mandolin is a simple, easy-to-use platform with studio-quality sound that turns a virtual concert into a fun, social experience with the opportunity to join a concert with friends. Real-time chat, Watch Parties, and artist engagement features let you experience live music in new ways.
Click HERE for information on how Mandolin works.
Mandolin Frequently Asked Questions