Thursday, 13, 7:00 PT
DUSTBOWL REVIVAL
A Two Show Livestream Experience
5/13 – Favorite Songs & Stories
GET TICKETS
Dustbowl Revival has always been about pushing the boundaries of what American roots music can be. The band's newest album, Is It You, Is It Me is something different entirely. It represents the latest stage in a band that never stops evolving and refuses to stand still.
---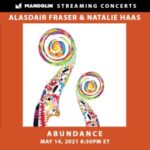 Friday 5/14 5:30 PT
ALASDAIR FRASER & NATALIE HAAS
Abundance/Alasdair's birthday concert!
GET TICKETS
The sixth in a series of seven retrospective concerts dedicated to revisiting and updating their 20 years of recording and performing together. It will also be a celebration of Alasdair's birthday! Join Alasdair & Natalie on a Zoom call after the concert to continue the festivities.
---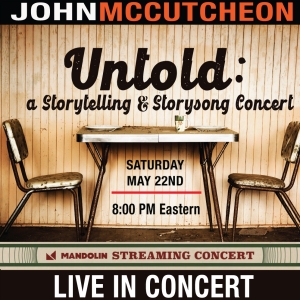 Saturday 5/22 5:00 PT
JOHN McCUTCHEON
Untold – Small Miracles in Everyday Life
GET TICKETS

For nearly fifty years John McCutcheon has been plucking magnificent stories out of history, the news, conversations, and memory and spreading them far and wide. With his masterful storytelling and his incisive songwriting, he can be humorous, touching, inspiring, and always illuminating. Whether on a South Dakota basketball court, in a small-town library, on a Sarajevo square, or in a World War I trench, "He has an uncanny ability to breathe new life into the familiar. His storytelling has the richness of fine literature." — Washington Post
---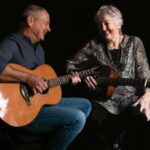 Thursday 5/27, 11:30AM PT
PEGGY SEEGER
Live at Cecil Sharp House – the home of English folk – in Camden Town, London.
GET TICKETS

"Lively, blunt and irreverent songs from folk's first lady…" 4 stars, The Guardian
Peggy Seeger – singer, songwriter, feminist, icon, Ewan MacColl's partner and muse – is the undisputed queen of folk and political song.Celebrating the release of her remarkable new album, 'First Farewell', Peggy Seeger performs her very first live gig since the pandemic.
---
Every Mandolin ticket is a front-row seat!
Enjoy the benefits of the best seat in the house by yourself or along with friends. Mandolin is a simple, easy-to-use platform with studio-quality sound that turns a virtual concert into a fun, social experience with the opportunity to join a concert with friends. Real-time chat, Watch Parties, and artist engagement features let you experience live music in new ways.
Click HERE for information on how Mandolin works.
Mandolin Frequently Asked Questions